The closure of its factories hit Sesto hard, but when the perpetrator of the Berlin truck attack was shot there, the former leftwing stronghold turned right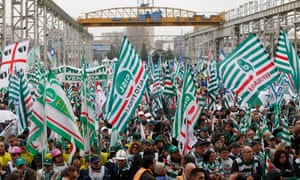 Gramsci Avenue, May Day Square, Karl Marx library … even today the streets of Sesto San Giovanni recall its past as the "Stalingrad of Italy". For more than seven decades, this suburb of Milan was ruled by the Communist party and its political heirs, but things have radically changed since the election of the new rightwing mayor, Roberto Di Stefano.
Begging, bivouacking in parks or streets and drinking alcohol in the open have all been banned. Those breaking the rules are expelled, and over the past year that has been the fate of more than 200 people – most of them homeless, street vendors or migrants.
"Before I came to power, there was a big problem of urban decay," says Di Stefano when we meet in his office in City Hall, a building designed in the 1970s by communist architect Piero Bottoni to resemble a blast furnace. "The city was clearly abandoned to itself, there were no checks and inspections on the territory and in public facilities. If we have reached 230 expulsions in eight months, it is proof that something was wrong."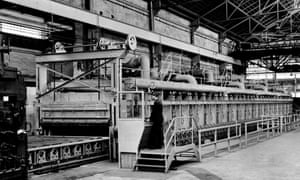 This once industrial city used to be the home of four large metalwork factories: Falck, Ercole Marelli, Magneti Marelli and Breda. Unsurprisingly, it also hosted a large, left-leaning and highly unionised working class. In the 1950s, more than half of Sesto's 32,000 inhabitants were Communist party members. Since then, the population has more than doubled. For 72 years the left ruled the city uninterrupted.
In the 1990s, the factories began to shut down. Ercole Marelli and Breda are gone for good, while Falck has been reduced to a much smaller factory, producing renewable energy. One industrial facility became a supermarket, another a cultural space and a third is being transformed into a large hospital.
"The first casting of steel in Falck factories was made in 1906, the last one in 1996", recalls Antonio Pizzinato, a former secretary with the CGIL trade union. "That was the end of Sesto as an industrial city."
The old system began to weaken. Without the factories, unions and leftwing parties lost their base. Sesto evolved into a dormitory town, with much of its workforce commuting to Milan. And yet the left remained in power – albeit less strongly that in the past – until 2017. Many say it was the fear of Muslim immigrants that brought the right to power.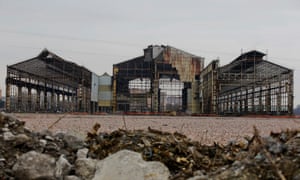 Sesto is home to around 5,000 Muslims, most of them immigrants or children of immigrants. Their community, dating back to the 1990s, was not a source of tension until recently. Things changed in December 2016, when Anis Amri, who killed 12 people in a truck attack on a Christmas market in Berlin, was shot by police in Sesto. Amri, a Tunisian, had lived in Italy before moving to Germany but Italian authorities say he had no particular connection with Sesto – most likely he was passing through the city trying to go south – yet the fact he was found and shot here was enough to scare some residents.
The incident came as the Muslim community was campaigning to build a proper mosque with space for 600 worshippers, to replace the existing prefabricated building on the outskirts of the city that holds half that. They had successfully obtained public land in 2013, but were still busy with land clearance work.
After the attack, and with elections approaching, the right began campaigning explicitly against the project. "They tried to draw a connection between the construction of the mosque and the presence of a terrorist in Sesto," recalls Monica Chittò, who was mayor of Sesto from 2012 to 2017. "The two were completely unrelated, of course, but they campaigned heavily on this." In the midst of the anti-Muslim campaign, Chittò also became a target: rumours were spread that she had left her husband for a Muslim.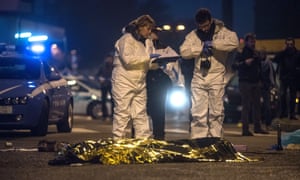 The strategy proved successful. As soon as he was elected, Di Stefano blocked the construction of the mosque and vowed never to let it be built in the city as long as he remains mayor. He told Guardian Cities he fears the construction of a large mosque would attract worshippers from Milan, which is connected by the city's metro system. "In 15 minutes, all the Arabs of Milan will arrive in Sesto San Giovanni," he said.
The Islamic community appealed to the courts. They won the first trial but construction remains halted while the mayor appeals to a higher court.
"Having a place of worship is a constitutional right," says Abdullah Tchina, a local imam. "This place is only for the faithful of Sesto San Giovanni. In the neighbouring towns there are already places to pray. Why should they come from other cities to pray here?"
In a small snack bar near the mosque, people see things differently. Rong Li Yu, a bartender of Chinese origin, likes Di Stefano. "When I arrived in 1997 business was quite good," he recalls. "Then [the factories] were gone. After 72 years [of rule by the left] it is not yet a liveable city, it is like a dormitory. I am not against the mosque but this is a small area. Citizens want a quiet city, where the economy grows and does not have problems of religion or non-religion."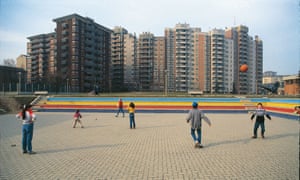 As Yu speaks, an old customer walks in. Tommaso Orsi, a retired factory worker, has lived all his life in Sesto. He voted for Di Stefano because he was displeased with the status quo and the way working-class families such as his had so little money. "When the factories were open it was not bad," he recalls. In the 1980s he used to earn quite well but now lives on a €700-a-month pension, just enough to cover the rent. He partly blames the presence of immigrants.
Samarkand Abou El Kheir, a young Italian-Egyptian woman, lives in a social housing project in Sesto with her mother, Daniela Pansa, and her brother.
"The new mayor reminds me of Donald Trump," Pansa says. "He just wants to grab people's attention and show that he's different, so he attacked the mosque. But I don't understand why he targets Muslims, who have a right to build something with their own money."
"They ran a campaign against a minority and won because of it", says El Kheir, a TV editor. "Until recently I felt at home and accepted in this city. Today I'm not so sure."
 
In Italy, every day a small group of radio stations give voice to the voiceless: from social and environmental movements to immigrants and ethnic Roma who suffer discrimination. These are the "free radio", a group of progressive and non-commercial broadcasters around Italy – from Turin, in the North, to Cosenza, in the deep South – who try to cover the kind of news that the mainstream media does not. Today, the free radios are trying to find a balance between their mission of broadcasting content that is outside the mainstream and the need for economic sustainability.
Unlike commercial radios, free radios aren't supported by large media companies – which gives them editorial independence but also means that they struggle financially. To further complicate their economic situation, they are extremely selective in the advertising they accept (many run ads only for ethical companies), if they accept advertisements at all.
What mostly distinguishes them, says Tiziano Bonini, a researcher at the University of Siena specialized in media studies, is that "free radios answer [ie: "feel obliged to be accountable"] only to their own listeners and they do not need to create profit for shareholders." When a radio makes money, the profit is reinvested in the radio.
Three of the most well known radios of this kind are Radio Popolare in Milan, Radio Blackout in Turin and Radio Onda Rossa in Rome. Founded in 1976, Radio Popolare is the oldest non-commercial radio still running in Italy. Radio Onda is just one year younger, while Radio Black Out was born in 1992.
Despite their lack of resources, these three stations have been able to cover extensively important topics that the mainstream media would sooner bypass – such as police violence, the gentrification of poor neighborhoods, the revolutionary Kurdish movements in Rojava, Iraq. They have also kept covering the democratic revolutions in the Middle East for a longer period compared to the mainstream media.
In Turin, Radio Blackout was the first radio to give voice to the protests of the inhabitants of the Val Susa against the construction of the high-speed Turin-Lyon line, a long tunnel drilled into the mountains which critics argue is damaging to the environment and costing the government big money that could be spent in a wiser way. The citizens in Val Susa who protested the railway were demonized by the mainstream media. But on Radio Blackout they had their own radio show, called "Radio No Tav" (Tav is an acronym for high-speed train in Italian).
Radio Popolare sets itself apart because "it's the radio that broadcasts the most international news in Italy", as Bonini says. Radio Onda Rossa, on the other hand, is well known for "giving voice to grassroots campaigns", says Cristina, that has been an editor for the Roman radio since 1994. As a longterm policy, the staff of Onda Rossa use only their first names. Another distinctive policy is that they let everyone speak: "We have had the same phone number for 40 years. Just call and you will be on the air", Cristina continues. She said that often the people who call the radio wanting to talk are from workers' unions fighting on some labor rights issue.
While the mainstream media claim to be impartial, the free radios are proud of their political identity. "We believe which stories get to be told, and people having a choice in who gets to be interviewed, means that [the journalist] is already taking a side. [Working in the] news requires making choices, and making choices requires a thoughtful position. We are convinced that every part of the media makes choices, but we do it openly and we are left-leaning politically" says Lorenza Ghidini, senior editor of Radio Popolare.

Screenshot, Radio Popolare website.
A bit of history
Until the mid-1970s, Italy authorized only the broadcasting of public broadcasters – the Radio Rai network, whose programs were controlled by a special commission that censors uncomfortable content. Radio frequencies were liberalized in 1976. Soon afterwards, leftwing organizations, such as Autonomia Operaia or Lotta Continua began opening up their radio stations. In the same period Radio Popolare and Radio Onda Rossa were born, as well as the now-defunct Radio Alice and many others.
The 1970s were a time of social and political upheaval in Italy and the birth of free radios was intertwined with the student movements, feminism and workers' rights movements, who for the first time could make their voices heard without any intermediary. "The social movements needed to deconstruct the language of [those in] power and to create their own language. They needed to show the dark side of power" explains William Gambetta, researcher at Centro Studi Movimenti of Parma.
In the early 1980s, many free radios begun to shut down: the high management costs, the reordering of radio frequencies so that it favours the creation of large oligopolies and the fierce repression of social movements, made their job too difficult.
Yet, a new generation of free radios was still to come. In the mid 80's Radio Onda d'Urto was born in Brescia. In 1992, Radio Blackout was founded in Turin, still the youngest of the bunch. But a few years later, a new broadcast law made it too expensive to open up non-commercial radio.

Radio Blackout stencil outside Turin Polytechnic, 2012. Wikicommons/jcracow.

A community of listeners
Today, it's thanks to listeners if free radios are still active. Radio Onda Rossa organizes some fundraising concerts in Rome's community centres. Radio Blackout in Turin and Radio Onda d'Urto in Brescia also organize summer festivals with concerts, debates and book launches.
Radio Popolare, however, began accepting advertising in 2000. But most of its financial income comes from a particular form of subscription – in practice, supporters pay a voluntary subscription even if they can freely listen to the radio regardless of whether they pay or not. "The economic crisis has drained advertising revenue, so now we depend much more on the support of listeners. We have about 15,000 supporters who give a fixed share each year. And that is something special. We are not just a radio, we are a community", says Ghidini.
But do free radio have any impact? Do they contribute to shaping the public debate?
According to Bonini, the media researcher, not so much. He argues there's just too few of them of them to make a difference and that they are local radios anyway. "Free radios gives voice to the voiceless. But it's just Radio Popolare and some other local radio here and there. They don't counterbalance the gap between mainstream media and common sense."
Meanwhile, many of the innovations invented by the free radios have passed to the mainstream media. For instance, the "open microphone", the possibility for listeners to comment on a specific theme, is used today by many commercial radios.
The concentration of media ownership in Italy paradoxically should stimulate forms of dissent says Alessandro Robecchi, former program director of Radio Popolare, who is now working as a TV author. "The prevalence of ideological conformism should stimulate dissonant voices. I think of a free radio as a megaphone of a society that does not accept and disputes the current narrative."
It would be wrong to reduce the radios to a relic of the golden age of social movements.
Undoubtedly the concentration of media ownership and the relationship between the media and politics in Italy is really strong, so it's very difficult for different voices to be heard. But while the mainstream media are only interested in what happens in the corridors of power, free radios offer a possibility to be heard for all those groups who are ignored by the mainstream media and discriminated against by society.
Cristina, the news editor of Radio Onda Rossa, is convinced that free radios are still important for many: "When we open the microphones, there's always someone calling. Maybe they do not agree with us, but still they have thought about the issues, and that's important. This means that, in 2017, there are still people listening to the radio and who think that we are important."
Screenshot of Radio Blackout website events page.

Italians are voting Sunday in a referendum on the country's constitution that could lead to as turbulent an aftermath for the European Union as the June Brexit vote. But one side just got a powerful, yellow-skinned supporter.
Italy's proposed reforms would end so-called "perfect bicameralism," the Italian system that requires most changes to legislation be approved both by the upper and the lower house of the Parliament. According to its supporters, this change would make Parliament more efficient. Its critics, however, argue it would only strengthen the hand of the executive and fortify the power of the prime minister, centrist progressive Matteo Renzi.
Renzi has vowed to resign if the referendum fails, which could portend more trouble for the European bloc's stability. Some forecast a financial crisis or galvanized extremist political forces. And while some polls show "no" having a slight advantage, Renzi is finding support in an unlikely ally: Homer Simpson. A popular Facebook page "800 mila iscritti per Homer Simpson presidente del consiglio" (800,000 supporters for Homer Simpson For Prime Minister) is actively campaigning for the Yes camp.
Founded in 201, the page has one goal: collecting 800,000 names to support the election of the fictional Simpson family patriarch to the actual post of Italy's prime minister — and it's doing pretty well: the page has managed to gain a membership of more than 320,000 fans. After months of inactivity, in October it suddenly began publishing pro-government messages and urging people to vote Yes.
Along with memes of the animated family expressing its support for the Yes vote, the page also publishes shots of Montgomery Burns, the wealthy villain of the TV series, declaring he would be voting No. The message was simple: common people favored constitutional reform, while the élite opposed it.
"Basically this campaign is appropriating the graphic language of the opposition in order to sent its own messages," said Leonardo Bianchi, who as news editor of Vice Italy, looked into the workings behind the popular page. Until recently, he said, this style of communicating political messages was mostly associated with the Five Star Movement, the major anti-establishment opposition party founded by comedian Beppe Grillo, who had employed social media and memes to rally people to its cause.
The Homer Simpson for Prime Minister page is part of a trend of previously non-political popular Italian Facebook pages that have begun campaigning heavily for the Yes in the months leading up to the referendum. Others are "Voglio Solo Amore" and "Angeli" ("I only want love" and "Angels") pages previously dedicated to romantic-themed images. The pages' owners did not reply to Vocativ's requests for comment.
The sudden change surprised some followers: "Many users were disoriented, because pages that used to post only pictures of Minnie and Mickey Mouse are now posting memes with Junker and Schauble," said Bianchi, referring to the president of the European Commission and the German Finance Minister.
A recent investigation by BuzzFeed claimed that the Five Star Movement was deliberately spreading fake news on Facebook. The wife of a conservative politician, Renato Brunetta, a senior member of Silvio Berlusconi's Forza Italia, was said to have spread fake news online with a false Twitter account, pretending to be an activist for the Five Star Movement.
Politics on Facebook is a new phenomenon, says Lorenzo Pregliasco, a political scientist at the University of Bologna who also runs the polling agency Quorum. "There's plenty of people who are on Facebook but rarely use it to discuss politics. So now the goal is to go onto a page or group that has nothing to do with politics in order to spread a political message. Previously, what campaigners did was simply to invest money to sponsor their messages in order to reach a specific group."
"Although most people still get their news on TV, Facebook is increasingly important for reaching the younger audience, or even forty-year olds," he said, although he has his doubts about the success of such a move. "It seems like a forced cohabitation: people, after all, subscribed to those pages because there wasn't any political contact. So it could backfire."

The country's structural support systems are quaking under the sheer volume of immigrants seeking asylum.
"I came to Italy to seek a better life," Konè says.
Konè now lives in Turin, a city in northwestern Italy that hosted the Winter Olympics in 2006. He is just one of the tens of thousands of refugees who have escaped to Italy in recent years from conflicts in the Middle East and across Africa. The European Union's 2003 Dublin regulation states that asylum applications can only be processed in the nation where immigrants first arrive; as a consequence, Italy has sheltered amassive influx of refugees in recent years. Unfortunately, the country lacks the infrastructure to handle the increasing numbers of people fleeing for their lives—some officials estimate that up to 800,000 are currently gathering in Libya to do just that.
This week, Italy's interior minister, Angelino Alfano, finally demanded help in the form of personnel or finances from the rest of the EU. Otherwise, he said, Italy will begin sending refugees to neighboring countries, no matter what the Dublin regulation says.
Thanks to Italy's overloaded systems, immigrants who make it through the treacherous Mediterranean journey often find themselves without any support once they arrive. Konè, for example, eventually ended up squatting in an abandoned Olympic complex in Turin.
Originally built to host athletes for the Winter Games, the building—nicknamed "Moi" after the farmers market, "Mercati Ortofrutticoli all'Ingrosso," that used to take place in that site before the construction—was essentially abandoned by the city of Turin after no one showed interest in purchasing it. After eight years of neglect, Moi is almost in ruins, with no running water and chipped exterior walls.
Above all, though, it's the lack of heating that poses the biggest threat. Though Turin has a generally warm climate, temperatures still fall to below freezing in winter, forcing Moi's residents to gather around small stoves to avoid hypothermia.
In addition, the building is severely overcrowded—though it was originally constructed to house 200 athletes, Konè says he is one of about 600 refugees staying there.
"There's 11 of us living in one room," says Konè. Even so, he continues, the ramshackle conditions "are not the problem."
The real issue, Konè says, is that it is nearly impossible for the immigrants to find work to support themselves.
In 2011, the Berlusconi government launched the "Emergenza Nord Africa" to manage the thousands of refugees who, like Konè, were entering the country from dangerous regions. Under this plan, all migrants crossing the Mediterranean were first held for several months inside an "identification center" in Lampedusa, a small island near Sicily. After that, they were routed throughout Italy into "reception center" facilities—generally converted hotels or resorts—where they were provided with food and medical care.
But the plan was only meant to be a temporary measure. On Feb. 28, 2013, the government abruptly shut down the reception centers, leaving many refugees in a desperate situation.
"Many of them were left without knowing a single word of Italian," explains Carlo Maddalena, a journalist in Turin who volunteers teaching Italian to migrants. "They don't know how to apply for a residence permit, or even how to call a doctor."
Maddalena notes that the Italian government "allocated an enormous sum for the refugees" during the Emergenza Nord Africa plan, which cost, in total, more than 1 billion Euros. Each individual refugee, says Maddalena, cost the government about €42 per day during his or her stay at an identification center. However, this money was used just to provide food and shelter; no plans were made for the immigrants' long-term prospects.
Such was the case with many of the asylum-seekers Konè knew at his reception center in Padua. After it closed, he says, he and the other refugees were given €500 (approximately $670) to start a new life and sent off on their own.
Unfortunately, as Maddalena argues, their lack of training—or even knowledge of Italian—has trapped them in limbo, with limited means to find work or schooling. Even if they do get help in applying for residency after their two-year refugee status has expired, which can help them jump the administrative hurdles of accessing social services, approval can take months.
Konè was lucky: After sustained pressure from allies in the activist community, he was able to obtain the documents allowing him to work in a solar panel factory and take on a few other scattered temporary jobs. But many of his neighbors in Turin—as well as the approximately 64,000 other political refugees in Italy—do not have access to such luxury.
And the situation in Turin, local activists say, is representative of hundreds of others occurring in cities around Italy. For instance, they argue, the fact that the migrants illegally living in the former Olympic complex haven't been evicted yet is just a matter of public order. After all, says one activist, Monica Frattari, "Having such a large [number] of people in the streets, with no income nor prospects, would be a total disaster." Authorities know that, but they "lack a clear idea of how to handle the problem in the long term," she continues. "So they prefer to turn a blind eye."
Frattari, who was instrumental in organizing the protests that eventually allowed Konè to achieve residency, says the immigrants have effectively been abandoned. "Once these people were released from the camps," she says, "It is as if they disappeared from the public scene."
Local officials in Turin, however, say they are not the ones to blame.
Elide Tisi, the deputy mayor and a member of the center-left city administration, says officials "have pointed out to the situation of the Moi to the central government." There are about 2,300 refugees in Turin alone, though that number varies given how often they change cities in search of work.
Tisi says that part of the issue is the central government's failure to coordinate a plan for the refugees with municipal officials. "The welcoming of asylum-seekers has presented mistakes," she says, "because the central government did not consult the local authorities."
Immigrants are in dire straits, she says, because of the overall lack of employment opportunities in the cities where they settle.
"We had no problem with reception [in Turin] when the economy was fine," says Tisi. She sees the difficulty immigrants have with navigating Italian bureaucracy as a secondary issue; rather, she argues, "The real problem for foreigners is to find a job."
Others say that while the system itself is viable in theory, it's not suitable for the sheer volume of people who reached Italy after the conflicts intensified in Libya and other African and Middle Eastern countries.
"The problem is the number of asylum-seekers," says Lorenzo Trucco, a lawyer and president of ASGI (Association for Legal Studies on Immigration). In order to avoid further scenarios such as the one at Moi, Trucco believes Italian authorities must change their approach on both a central and local level.
Italy does have some facilities available, such as language schools, which could help immigrants assimilate into Italian culture. But there simply aren't enough available, Trucco points out. According to the New York Times, in 2012, Italy only had about 3,000 spots in such programs—roughly five percent of the total refugee population.
Unfortunately, a structural overhaul may be unlikely to occur anytime soon. Fearing a public opinion often hostile toward Africans, authorities have frequently opted to effectively confine refugees into a no man's land. Once they reach Italian soil, their existence soon seems forgotten: The media talks about African asylum-seekers only when there's some news about a migrant boat wrecking off the coasts of Sicily.
The truth is, for many politicians, immigration is a topic too delicate to deal with, especially in a time of economic crisis.
Several big parties are openly anti-immigration. At the last national election in 2013, the third-most popular party was the "Movimento 5 Stelle", or Five Stars Movement, which opposes granting citizenship to foreigners. Meanwhile, the right-wing "Lega Nord", or Northern League, which was part of the government coalition until November 2011, regularly organizes demonstrations against the presence of immigrants in Italy. A significant number of Italians are resistant to permanent solutions for refugees, fearing that foreigners take away jobs and resources.
Given this climate, it is no surprise that few politicians have bothered thus far with long-term solutions for the rising number of immigrants. But Trucco thinks the circumstances require cohesive action, and fast. "We need to expand the system of reception of local communities, overcoming the logic of emergency," he says.
Most of all, Trucco says, "We must stop seeing immigrants only as a problem of public order." Instead, he says, we should "start seeing them as a people capable of bringing resources and benefits to the country."

Christian Science Monitor 25/7/2012
Farmers lost the battle against a high-speed train they see as serving the economic interests of the Italian elite and causing harm to the environment.
By Giorgio Ghiglione, Contributor / July 25, 2012
Luca Abba, a farmer from Val di Susa, a valley that connects Italy to France, was electrocuted last February while climbing a high voltage pylon during protests against the construction of a new High Speed Railway Line (TAV) between Italy and France in a desperate attempt to resist expropriation.
He survived, though severe health problems persist. But the tragic incident was evidence of the tensions that have been rising for almost two decades between the valley's local communities and the central government, culminating in violent clashes between protestors and contractors since construction finally began last summer. The project has become emblematic of a public works culture that is driven far more by politics than local need: the current rail connection is underused and environmental problems could arise.
In 1991, the Italian National Railway Co. first proposed construction of a high-speed rail line between Turin and Lyon, alongside the existing connection. It gave the green light to the project in 2001, despite reports of declining traffic of both people and goods between the two cities since 1997. Local inhabitants strongly oppose the megaproject, claiming environmental and economic reasons should prevent officials from continuing. Protests have been ongoing.
Highly toxic deposits of asbestos and uranium minerals would resurface during the building of tunnel, which "would cause environmental devastation," says Nicoletta Dosio, a retired schoolteacher and co-founder of the movement against TAV. "The existing railway's capacity is underused at around 20 percent: they should [first] use it."
Conflict of interest
The high-speed railway saga fits into the narrative of Italy's failed public works management, where business and politics often overlap. The long list of political scandals in Italy includes incidents involving the misappropriation of public funds, such as the SISMI-Telecom affair, which exposed government and corporate officials capitalizing on professional secrets that were obtained through wiretapping citizens' phone lines. The construction of the TAV has also exposed questionable business practices and nepotism.
The family-owned Gavio Group, head of the railway's general contractor Impregilo, was charged with corruption last July and accused of bribing Filippo Penati, former president of the province of Milan. CMC, a construction cooperative in Ravenna with close ties to the Democratic Party, was awarded the exploratory tunnel works, while Rocksoil, owned by the wife of the former center-right infrastructure minister Pietro Lunardi, won numerous contracts on the French side.
"There hasn't been a parliament's vote about TAV," says Ugo Mattei, a professor of international and comparative law at the University of California in San Francisco. "There only is a law that dates back to 2001 that states the rules for every great infrastructure project to be realized between 2002 and 2013," leaving much leeway for politicians.
The "TAV is just the latest example of a transfer of public money in favor of private interest," Mr. Mattei adds. "The Democratic Party's favors to CMC make sense because the money is supporting the party indirectly."
Marco Ponti, professor of transport economics at the Polytechnic University of Milan and a World Bank consultant, says that there's no need for a new rail line connecting Turin with Lyon. "The traffic is very low, because Lyon is in the middle of nowhere: The existing line has a capacity of 20 tons of goods, and currently carries only three." He adds that the project "means enormous profits for builders and banks."
A long history
Works were slated to begin in October 2005, but protesters have blocked them for years, literally chasing construction workers away. A few months later in December, the police nearly destroyed the local protest movement's "No TAV" sit-in, after which 50,000 protesters attacked and destroyed the site.
Relations between the authorities and local people became so strained that the government formed a technical committee to negotiate with local mayors. In 2008, they reached an agreement to build the TAV, but many still disagreed. Insiders claim that the negotiations had not taken into account independent reports suggesting that the railway was dangerous for the environment and economically unsound.
Italy would have lost European funds if the works had begun later than June 2011, spurring the police to evacuate a new sit-in prompted by the renewed activity. The next month, 70,000 people occupied the area but were quickly dispersed. A series of fights, road blocks, and spontaneous demonstrations followed, causing the indictment of 42 people who were accused of inciting violence, inflicting personal injuries, and damaging public property. In an attempt to defuse the situation, the technical committee proposed a compromise. A cheaper and smaller rail line, consisting on just one tunnel, should reduce the cost to 3 billion euros, it said.
Unhappy ending
This lower-cost project has not been without its critics.
A number of professors at the Polytechnic University of Turin stated in a report that the revised proposal lacks a proper analysis of its economic sustainability. "[T]he government says there will be no environmental damages, either direct or indirect. That's wrong: any kind of work, big or little, will generate some impact, and in this case the danger posed by asbestos deposits has been played down."
In May 2012, local elections in Val di Susa turned into a referendum on the railway. The Democratic Party and Silvio Berlusconi's Freedom Party joined forces by presenting candidates supporting the project, but were still defeated by candidates from the No-TAV movement in many towns.
Meanwhile, construction continues and critics remain skeptical. "Nobody will transport its goods by trucks to trains: loading times are too long," Mr. Ponti sighed.